The Icelandic Airline Pilots' Association organises the annual Reykjavik Flight Safety Symposium. The next conference will be held on September 24th 2021 at Hotel Hilton Nordica. The venue opens at 9:00 for coffee and registration, and at 9:30 the event will begin with opening remarks.
This years speakers will be:
Guðmundur Kristjánsson is a project manager at Isavia ANS

Isavia ANS's Transatlantic Surveillance Corridor

Patrick Hudson is emeritus professor at Delft University of Technology in The Human Factor in Safety at the Department of Safety Science

Climbing the Safety Ladder - Per Ardura ad Astra

John Franklin is Head of Safety Promotion at EASA

Let's talk about Tractors – doing something new

Helena Cunningham is Chairman of the IFALPA Safety Management Working Group (SMWG.)

Enhanced Flight Path Management

Ragnar Guðmundsson is an aeronautical engineer and investigator at the Icelandic Transportation Safety Board.
You can read more about this years speakers here.
If you have any recommendations, suggestions, questions or comments, feel free to send us a line at fia@fia.is. The event is held in English, and admission fee is quite modest. Get your tickets here!
For our international guests: PROMO CODE available for Hotel Hilton Nordica, more info at fia@fia.is
The event attracts, among others, air traffic controllers, pilots and people at administration level.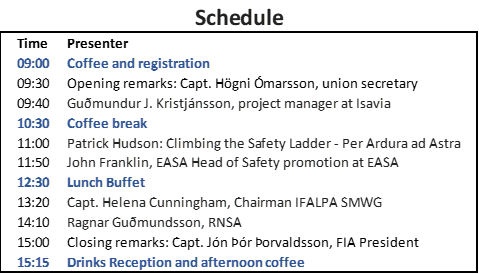 Recordings of the RFSS from previous years can be found here below: