The Safety Committee of the Icelandic Airline Pilots' Association hosts the "The Reykjavik Flight Safety Symposium" each year. Next year's Symposium will be held on 13. March, 2020. The Symposium is held in English, attracting guests from all over the flight industry and the world.
This year, there will be a special emphasis on volcanic effects. Lecturers are:
Dr. Sara Barsotti, of the Icelandic Met Office - Responding to explosive eruptions in Iceland: changes and improvements over the last 10 years
Dr. Roy Clarkson from Rolls Royce - Volcanic ash and aviation - 10 years from Eyjafjallajökull
Harry Nelson, a former test pilot for Airbus - Are we ready for the challenges of tomorrow?
Hlín Hólm, chair of NAT-SPG - NAT-SPG
Capt. Antti Tuori, MD, from IFALPA's HUPER committee - Pilot's health - risks and solutions
Read more about the lecturers here.
Minimum charge of 3.400 ISK (approx. 25 EUR), and a lunch buffet is included, as well as other refreshments throughout the day! Get your ticket now on www.tix.is. Conference guests are offered discounted accommodation at the Hilton, more information can be found on ticket.
For further information contact the FIA office at 599-1192 or via e-mail fia@fia.is.
Recordings from previous years can be found here below:
2019
In 2019, the RFSS was held on April 11th, at the Hilton Reykjavík Nordica. The speakers that participated this year were the following. By clicking their names you will be forwarded to a recording of their speeches:
Here you can watch the entire symposium including some words from Jens Þórðarson (Icelandair), Jeroene Kruse (ECA) and final words from FÍA President, Örnólfur Jónsson.

Högni B. Ómarsson, FÍA's Secretary, moderated the event.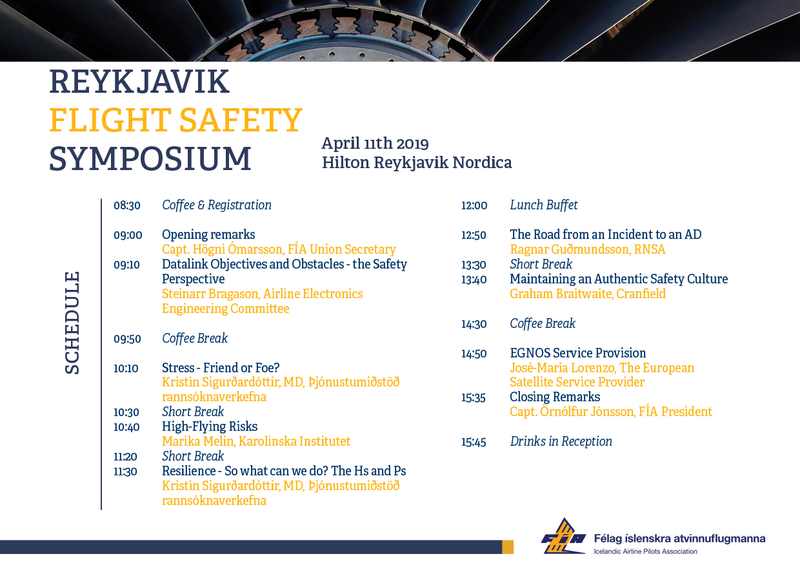 2018
"Overview and introduction to satellite based air navigation in Iceland"
Chris Johnson PhD, Head of Computing at the University of Glasgow
Recording not available.
"The history of contaminated air on aircraft and the solutions available"
"Is resilience a valuable skill in aviation?"
2017
Oliver Ingenrieth, Safety officer, Air Berlin
Sólveig Ragnarsdottir, Flight Safety Analyst, ICETRA
Sara Barsotti, Volcanic Hazards Coordinator, Icelandic Met Office
"Developing Flight Deck Challenges"
Chris Glaeser, Former Global Dir. of Safety IATA
"NAV/COM development in BIRD"
Sigurjón Jónasson, ICEATCA, ISAVIA
"New tools for investigators - New challenges"